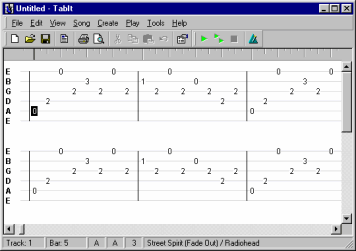 TabIt is a full-featured program for creating, playing, and printing guitar, bass, or banjo tablature.
Some of its features include:
Playback: Enter tablature, then play it back through your computer speakers.
Multiple tracks: Tabs can have up to 15 different instruments (chosen from a list of 128) playing simultaneously.
Drum tracks: Augment your tabs with up to 47 different drums.
Printing.
Text file export: Convert your tabs into plain text files.
MIDI file export: Convert your tabs into standard MIDI files, suitable for playing or editing in other programs.
A large selection of tablature transcribed by the TabIt community is available for download on our site, which can be viewed and played using TabIt.
---

Questions or comments?
E-mail us!
Copyright © 1996-2010 GTAB Software. All rights reserved.